I don't have very good experiences with make-up artists. Do you guys remember
this
make-up disaster? 17 years of make-up "experience" and
this
is what she did to my face. :( Thankfully, it wasn't my wedding day but because of that experience, i decided that when it was my turn to get married, I wouldn't cheap out on my make-up artist b/c after all,
you get what you pay for
. (read more about that experience
here
)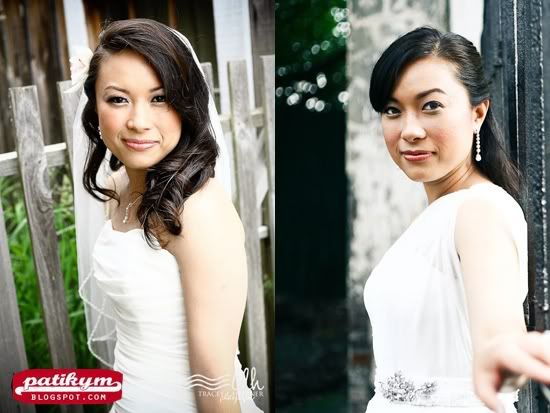 L: Vancouver wedding ceremony + reception R: Philippines reception
Photographs by Tracey L Heppner
I was very happy with my wedding make-up as
my make-up artist
knew what would suit my face, she made me feel comfortable and most important of all, she had the skill. When we got to the Philippines for
Reception #2
, it was a different story. For starters, I didn't know who the make-up artist was and we didn't get a trial session. Let's just say at the end of it, I was close to tears because...
I looked like a ghost with a very white face
and a white dress on!
He powdered my face like there was no tomorrow, he made my eyes smaller and when he put fake eye lashes on me, he doused the lashes with glue so I had glue all over my lids and to top it all off, he pointed a hair dryer to my face to dry the lash glue. Yes. He also did my hair (i wish you could see the back of my hair in the photo above)
and used a straightening iron to curl it which I know can be done but by the time he was finished, my hair was all frizzy and it just looked like I hair sprayed my hair stiff and folded it a few different directions in an attempt to create curls. Oh and not to mention,
his hand smelled like cigarettes and fish
. Thankfully,
our photographer
did a great job making the damage look minimal in our photos. :P
Have you had bad experiences
with make-up artists?
tweet, tweet // i design clothing: www.herrohachi.com // book of faces // tumblr