Make up gurus (or anyone reading this), i hope you're sitting down as i'm about to reveal some cringe worthy make-up. In my
last post
, I mentioned that I went to a
small, small town
up north as I was a bridesmaid for
my best friends wedding
. I don't really wear make-up very often so I thought that since this is a special occasion, I would get a "professional" to do my make-up.
When I was introduced to the woman who'd be doing my make-up, I was slightly worried as she was much older, she didn't really look put together and her make-up was nothing to write home about. I made small talk with her and asked "
how long have you been doing make-up
?" she beamed and said "
17 years, i absolutely love doing this
". The whole time I was getting make-up done, my back was facing the mirror so I couldn't see what was going on. As she was finishing up, she kept saying "
oh, i better get others opinion on what i've done
". Now i'm not a make-up expert, but that automatically raised a
red flag
to me b/c it showed that she wasn't confident in her work.
THE FINISHED PRODUCT
: a caked on face that was at least
2 shades lighter
than my natural skin tone and if you study my face close enough, you'll notice that my forehead has
brown spots
on it from poor blending. *sigh* The funny thing was that one of the other make-up artists kept asking me several times if i was happy with it and i just said yes b/c i didn't want to make anymore suggestions (i'd already made a few at this point)...but she insisted and said that i was really white under my eyes. hahaha! Even after she 'fixed' it - one of the other bridesmaids still had to bronze the heck out of my face to make the brown spots disappear and make me a little less white. Maybe it was a 'small town' thing and they weren't used to putting make-up on an Asian person (the make up artist was Caucasian)???
If it was any other occasion, it'd be fine but i paid money for this AND it was for my best friends wedding where we'd be taking lots of photos!!! Grrrrr! Oh well, at least it wasn't my wedding - otherwise, i probably would've cried. haha!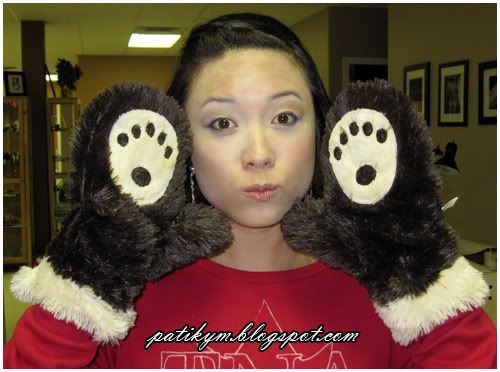 I wore the bear paws to distract you from my white and brown spotted face. haha!
Do you have any make-up horror stories?
tweet, tweet // i design clothing: www.herrohachi.com // book of faces