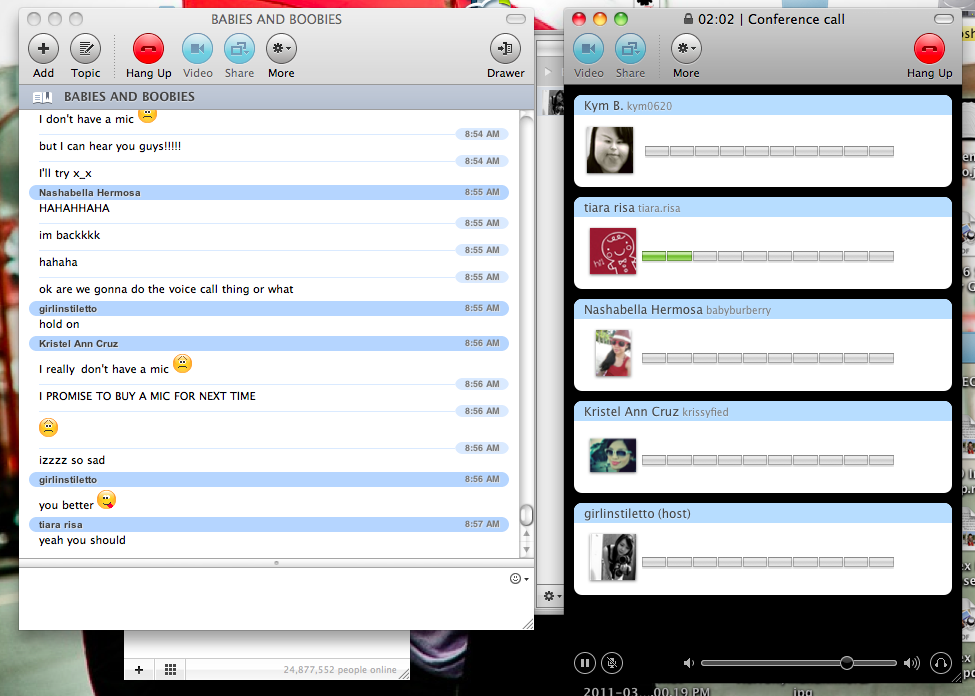 click to enlarge... yes, you read correctly. the topic was "babies and boobies".
In 2009, I started blogging so I could document all the things I was making (like greeting cards, graphics, random things, etc) but little did I know that it would allow me to make great friends both locally and internationally!
Last Saturday, I had my first
Skype
date with friends i've been talking to online for a long time. It was fun trying to identify whose voice was whose and it was great to finally be able to put a voice to the face/picture. :) I was able to meet
Nikolett
for the first time last year since she also lives in Canada. In about 2.5 months, i'll be able to meet some of my friends who live in Asia when i fly to the Philippines for my 2nd wedding reception! :D
I remember a few years ago, people would get weirded out when you say that you met with someone who you met online but now, people are getting married to people they met online and creating long lasting friendships! I'm glad technology has allowed me to "meet" you guys! *awwwww* :)
What has technology done for you?
Speaking of long distance friends, my dear friend
Krissy
is celebrating her birthday on April 6th and she's giving away some AWESOME prizes, including
a shirt
from me! Enter the giveaway
HERE
!
tweet, tweet // i design clothing: www.herrohachi.com // book of faces // tumblr