One of the stories I read recently on
CNN Heroes
was about this Italian man who came to America many years ago and started out working as a dishwasher. He eventually became the chef and owner of this high end restaurant and has made it his lifes mission to feed "
motel kids
" every day by making them fresh pasta. Motel kids are kids whose families live in motels because they cannot afford to pay rent or put food on the table for their kids. Read more of this heart warming story
here
.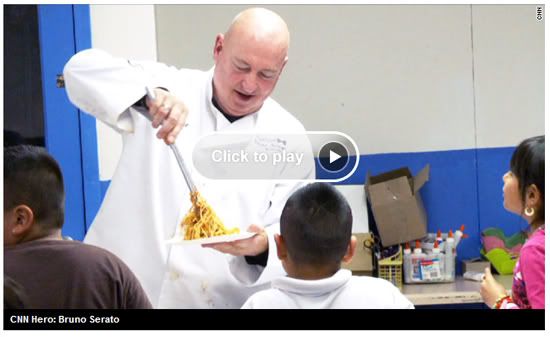 It reminded me of 6 years ago when i spent 9 months in California to do missions. Every week, my group and I would visit this low-income/government housing community and spend about 2 hours with the children in that complex. Most of these kids came from broken families, had abusive parents, and their escape was that one or two hours every week that we would come and play with them. There was one particular family that has stayed close to my heart and 6 years later, the kids still email me to let me know simple things like they've been getting good grades at school, their soccer team won their last game, etc. Sometimes we may not have money or material things to give but the most precious thing you can give is
TIME
.
Who are the heroes in your community?
tweet, tweet // i design clothing: www.herrohachi.com // book of faces // tumblr