I've always thought of California as my second home mainly because my dad's side of the family lives there and i've lived there briefly myself. I haven't had a chance to visit as often as I'd liked because tickets from Vancouver to L.A were around $400-$500 so you can imagine my excitement when I saw a seat sale through
Allegiant Air
for a $60 ticket to L.A,
roundtrip
! I did have to cross the border into the United States first but what's a 45 minute drive compared to $400 in savings? :)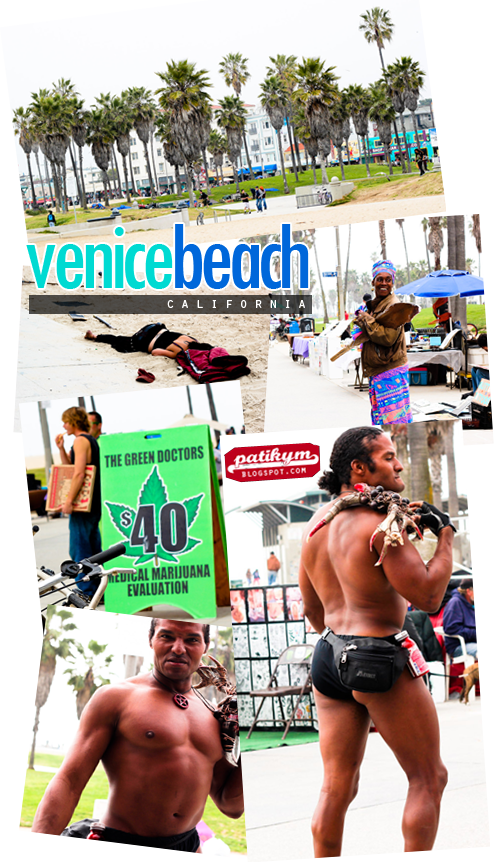 The last time I was at
Venice Beach
was in 2007 so everything seemed new to me again - the sights, the sounds, and especially the people! That muscular man was walking around with a creepy horn thing and he saw me trying to take a photo of him so he stopped in front of me, posed, and then asked me for money.
-____-
One of the main reasons I visited was to spend time with my 5 year old cousin. I don't want to miss her growing up years so any chance I get to spend time with her is memorable. Although I must admit, spending time with an energetic and talkative 5-year old has been a bit of a natural birth control for me. Hahaha!
One of the highlights of my short trip would be getting to go to my first
food truck meet-up
! Vancouver does have food trucks but I can probably name them all in a minute. This meet-up was insane to me.... block after block after block of food trucks lined up offering everything from burgers to crepes to sushi. I got excited when I saw the
Grill 'Em All truck
since I've been drooling at their burgers ever since I saw them on
The Great Food Truck Race
. I tried their Witte Burger and I have to say... It's probably the best burger i've ever had. I'm still looking for one that will top it!
Read it and weep drool: Witte Burger - cream cheese, deep fried bacon, beer/sriracha onion, malt vinegar aioli