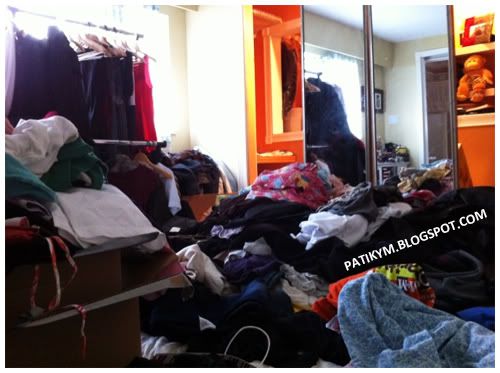 There's a bed under there, somewhere..... haha!
I hang my head low in shame as I reveal to you the state my bedroom was in for months up until last Friday. It starts off with "
i've got so much to do
...
i'll put this sweater away later
" until you eventually collect a mountain of clothing on top of your bed and you can no longer sleep on it. Haha! There was no urgency for me either because we have two guest bedrooms in our house that I could sleep in! Finally, with the help of my mom, I was able to pack and clean my room in preparation for
moving and marriage
-
2 MONTHS + 3 WKS AWAY
!!! Eeeeek!
No, the rest of our house does
not
look like this, especially not my work area. I'm actually quite a neat person (hard to believe from that photo, right? haha) but I guess with packing and preparations, i slowly started neglecting the mountain of things that needed to be organized. Hey, at least you won't find any squished cats or 20 year old sandwiches anywhere.
Would your room be featued on "Hoarders" or in a funky home decor show?
P.S - The wait is over!!! Check out all my NEW RELEASES HERE! Use coupon code "NEWHERRO10" to enjoy 10% off!
Code is valid until April 3rd, 2011.
tweet, tweet // i design clothing: www.herrohachi.com // book of faces // tumblr