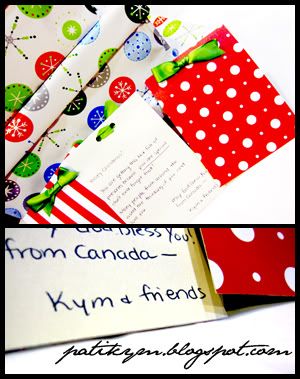 I've always had a heart for children and for those less fortunate... i've been dreaming about giving back but have been slow in taking action. I finally decided that this year, I would give back by packing shoe boxes with little goodies for children in 3rd world countries through Operation Christmas Child. I wish I could see the look on those kids faces when they open their boxes on Christmas Day!!!
I dedicated the boxes to you guys, my blog friends from around the world! I couldn't name each and every one of you (hence the "kym and friends" signature) but i told each child that they were loved by someone from all over the world. :)
How will you give back this Christmas?
P.S - from the bottom of my heart, thank you to everyone for your kind and encouraging words on my last blog post. it's comforting to know that people from around the world are offering to pray for someone they don't even know. Thank you. :)