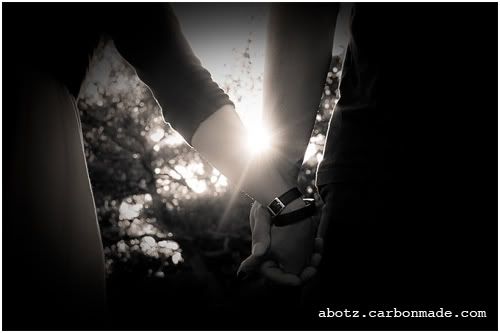 from my brother and sister-in-laws engagement photo session, taken by good friend
abotz
.
Time to get personal.
I started dating at a very young age, even dating guys behind my parents back when I was in my tween years. As I got older, I started to realize that...
hey, maybe my parents are on to something when they don't approve of someone i'm dating.
As I continued dating, I started looking to my parents for red or green lights... my parents were obviously older and had a lot more wisdom than I did... which is probably why my previous relationships never lasted that long b/c if my parents didn't approve, i didn't either. When I started dating my current boyfriend, I again looked to my parents for guidance whether this was a great idea or not...
I got the green light.
Through the almost 3 and a half years we've been dating, there have been good times and definitely bad times. My parents are like my best friends - I go to them whenever I need advice on life... relationship advice especially.
Last night, I learned something huge from my Dad... it sounds like common sense but it's surprising how so many people make this mistake.
"Love is not a feeling, it's a choice"
I've been making the mistake of relying on my feelings all the time and what my dad said made total sense. It can be applied not only in romantic relationships but in relationships in general.
When you're frustrated with someone, choose to love.
When you feel like giving up, choose to love.
When your relationship is seemingly hopeless, choose to love.
I guess that's why i got the tattoo I got 4 years ago - "
Amor Vincit Omnia

"
(Love Conquers All)... doesn't it?
What's the best lesson you've learned from your Dad?