You know how you meet some nice people but you can't help but shy away from them because they give off a
creepy vibe?
For some reason, i seem to attract all sorts of those kinds of people!
For example... almost everyday, I come across this man in the lunch room who is an Asian man in his late 40's. Whenever we eat lunch, I feel like I have committed a serious crime as I am being investigated with "20 questions" -
what do your parents do? what do you do on the weekend? where do you live? where is your church? do you attend bible studies? you've lost weight, what are you eating or not eating?
O.o
But that's not the worst of it. In between the 20 questions, he pauses for a few seconds, stares at me, all while rubbing his hands together... and it makes me cringe not only because he is staring at me and rubbing his hands together but his hands are super dry so you can hear the dry skin sound (does that bother anyone else?)
Anyway, today was the awkward-est of them all. I was reading the newspaper and he comes up behind me and leans over my shoulder.
"Sexy outfits not out of the ordinary for service industries..."
reads the headline in big bold letters.
"Oh.... sexy outfits?" he continues to skim through the article and then asks me the big question:
Uhm, seriously? Thankfully, there was another less-creepy-and-awkward male person in the room so I bounced the question over to him. haha!
I feel bad for the guy... he seems like a nice guy... he has a family and all...but maybe he was just never taught that questions like that are inappropriate... and staring at someone while rubbing your hands together gives an unwanted message.
Do you have any creeper/socially awkward stories?
I now leave you with a picture from Urban Glamour Market last night... the first picture was of me
trying
to
not
be in the picture but just have the speech bubble and pillow monster in there. But alas, I failed. It turned into a creepy picture instead with only my eyes showing. haha!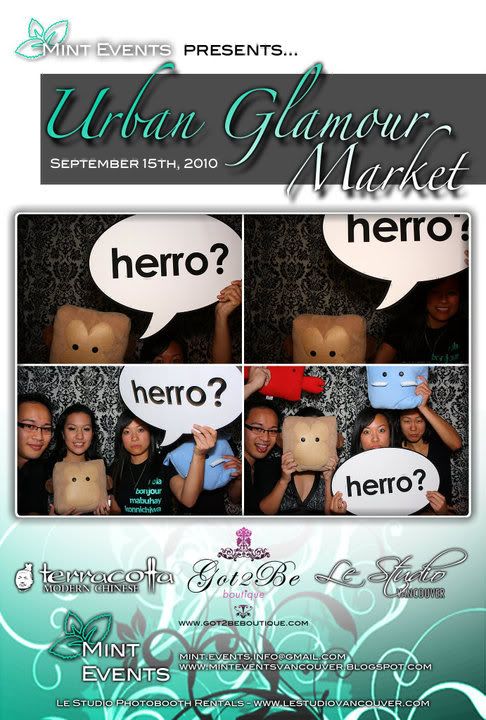 like my giant speech bubble? :P