Last Friday, I went to one of the busiest parts of our city to run errands and what I hate about this part of the city is that it's mostly pay parking
on the street
(as opposed to a parking lot). I found an area with many cars parked so I decided to park there too. This was
2:43PM
. When I returned to where I parked my car at
3:17PM
, I was stunned... I couldn't find my car!!!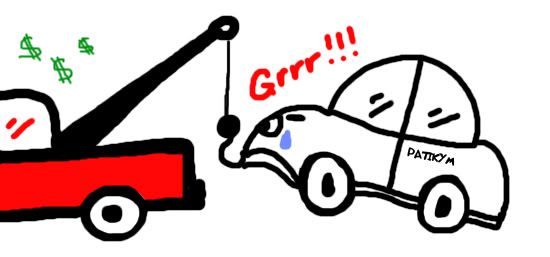 It turns out my car had been towed. The signs said "
no parking from 3PM to 6PM
" and I didn't think to look since I saw many cars parked there when I arrived :( When I went back to my car, none of the other cars were there so either we all got towed or the other people were smart enough to look at the signs. Haha! And the kicker? My parking violation ticket was clocked in at 3:15PM, 2 minutes before I arrived. BOOOO!!!!
Total cost of lesson?
$144.50 CDN
.
Ouch.
What's the most expensive lesson you've learned?
tweet, tweet // i design clothing: www.herrohachi.com // book of faces // tumblr