Thank you
Lei
for tagging me to write about "
10 Things I Love
". Since i've done this post before, I decided to do one focused on one of the things I love most -
FOOD
!
I used to be a really picky eater when I was a kid especially when I was
culture shocked
from my move from Hong Kong to Canada. In Hong Kong, I was used to eating rice and noodles, not sandwiches, salads, wraps and other 'north american food'. I didn't like spices, sauces, and anything "
out of the ordinary
"(yes, i considered salad out of the ordinary) I'm happy to say that i've since expanded my horizons in the food world! :P
Were you a picky eater as a child?
Below are just some of my faves!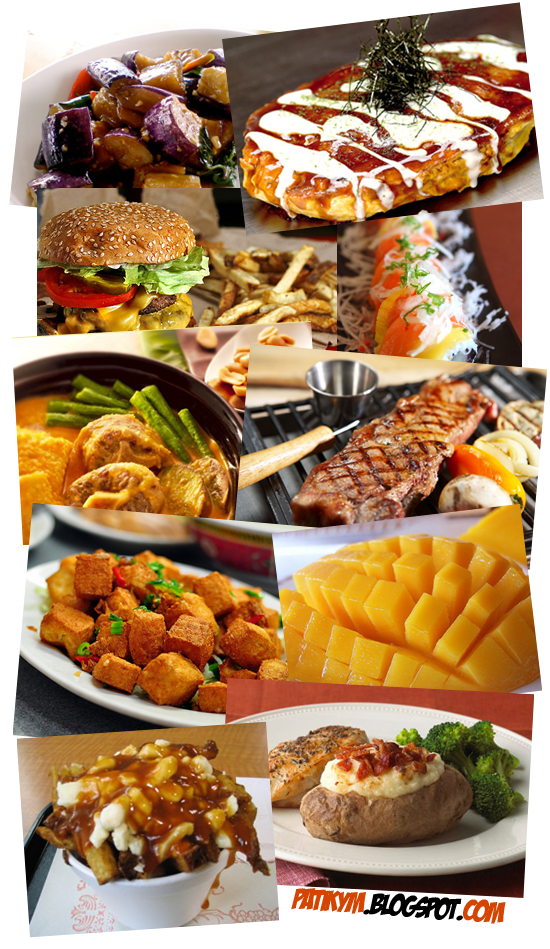 What are your favorite foods?
photo credit:
poutine from http://www.awesomecanada.ca/ + baked potato from http://www.kraftrecipes.com/ + sushi from http://www.sushibarbluefin.com + okonomiyaki from http://www.pref.osaka.jp + eggplant from http://asiasociety.org/ + mango from http://www.klesickfamilyfarm.com/ + deep fried tofu from http://gastronomyblog.com/ + bbq from http://itallstartswithbutter.com/ + kare kare from http://goodhealthnewsandreview.com/ + burger from http://aprilandwes.blogspot.com/
tweet, tweet // i design clothing: www.herrohachi.com // book of faces // tumblr