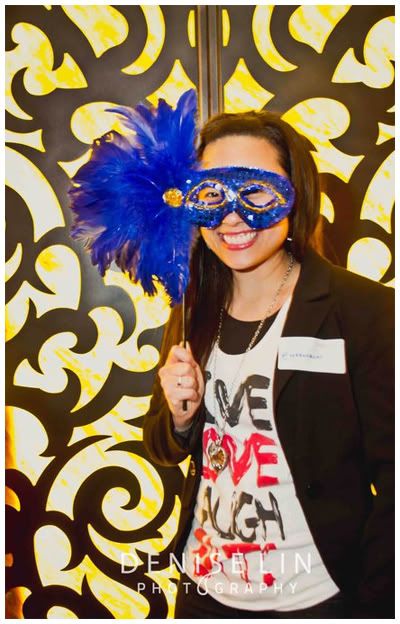 Those who have been following my blog for a while now know that I used to strongly dislike
Twitter
. In fact, I vowed never to sign up on Twitter because I didn't want to get updates about what people were eating and what time they woke up that day. In April 2010 though, I
gave in
and decided to give it a shot. 9 months later, I'm so into it that I actually even attended my first
Tweet-up
!
A tweet-up is a social gathering of people in your area who are on Twitter.
It was fun b/c everyone was wearing different masks to fit the Masquerade theme... I brought my authentic mask straight from Mardi Gras '06 in New Orleans! It was such a cool but nerdy experience. As soon as you walk in, you register and they give you a name tag with your Twitter handle (
@herrohachi
) on it so that once you are mingling with people, they can add you on Twitter right then and there. haha! It is the only place I've ever been to where
EVERY SINGLE PERSON
had their Blackberry or iPhone out the entire night so they could tweet about what was going on and who they were meeting. It sounds boring but it was a lot of fun being able to meet those you've only been talking to on Twitter!
It was great meeting people but I must say, the highlight of my evening was getting to try
Lobster Mac & Cheese
for the first time EVER! Thanks to
Samantha
for introducing this dish to me!
Have you ever attended a Tweet-Up? If not, would you?
tweet, tweet // i design clothing: www.herrohachi.com // book of faces