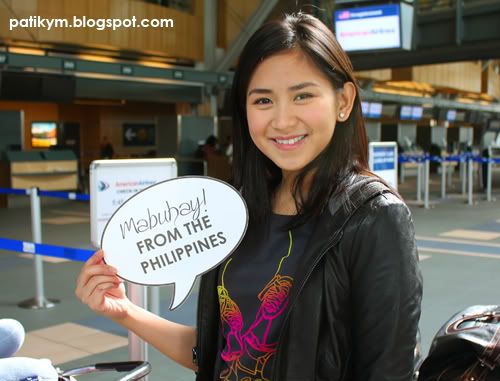 As many of you know my official website,
www.herrohachi.com
, will be launching in July. In preparation for the web launch, I've asked many people from around the world to take part in
Project Herro
where all you have to do is take a photo with my trademark speech bubble, saying "hello (or herro ;)" in your native language.
For those of you who don't know
Sarah Geronimo
, she is a very well known
singer and actress in the Philippines
. Read more about her
here
. The photographer for my upcoming photoshoot was her official photographer when she was in concert here last weekend and he was able to make this happen! So exciting!
If you'd like to take part in this project
, it's not too late! Please send an email to: kym@herrohachi.com
I hope to bring
herrohachi
to my homeland, the Philippines, someday! : )

P.S - are my posts showing up on your google reader/blog feed thing? apparently some people aren't getting updates on my new posts :( does anyone know how to fix this?


P.P.S – my hoodie sale of 35% off ends tomorrow! Click HERE to get yours before the sale ends!