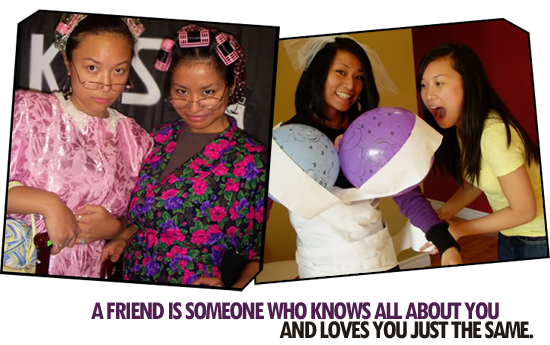 When I greeted my sister-in-law a
Happy Birthday
yesterday, I added that I couldn't believe she is now 27 years old. She responded by reminding me of days when we were just kids, picking blueberries in the summer to earn money so we could go shopping. My sister-in-law and I met 14 years ago and instantly became friends...I have always thought of her as my sister but when she married my brother 3 years ago, it became official. :) Here are some things I learned about what true friendship is... not just with my sister in law but with other great friends of mine as well. :)
FRIENDS PUSH YOU TO DO BETTER
- My s.i.l got into fitness way before I did, she ran marathons, exercised daily, and had a healthy lifestyle. She inspired me but i remained lazy. Hahaha! For years, she's encouraged me to get more active and it is partly through her encouragement that I've turned my lifestyle around today!
FRIENDS DON'T CARE ABOUT DISTANCE
- Many friends have come and gone in my life for many different reasons but my friendship with my s.i.l did not get affected -- even when i moved away to study in another country for 9 months. In fact, my going away only did good. Because I was gone, she hung out more with my brother and ended up marrying him! I take credit for that one. ;)
FRIENDS ACCEPT YOU FOR WHO YOU ARE
- Some friends only like you when they need you, some friends only like you when things are going well, but true friends love you for the good, the bad, the ugly, and even the stinky (see last point). I guess that's why many people end up marrying their best friend!
FRIENDS ARE THERE TO HELP
- I can't even count the times my s.i.l and many of my other friends have been there to help. Whenever I have shows for
Herro Hachi
, they're there with their sales faces on! Friends don't care about time, energy, or cost - they're just there to help!
Lastly and most importantly,
FRIENDS HAVE FUN!
- When my s.i.l and I were just kids, for some reason we were really amused by
FARTS
. Yes... farts... the fake ones, the silent ones, the deadly ones, and especially the loud ones. We would even call our sleepovers
farties
instead of parties. We also loved prank calling people using different accents and different scenarios - it's gotten us into trouble several times but they are stories we laugh about even today. :)
What have you learned about friendship?