I had the pleasure of meeting up with
Nikolett
of
Better Than Coffee
again after our long 9 month separation! :P We only got to hang out for a couple of hours but it was fun nonetheless.
We stopped for fries and gelato here. We had such a giggle about the name "
Bojangles
" because it's more of a
Southern
name but they were serving
Italian
gelato, and the owners/all workers were
Chinese
. Haha!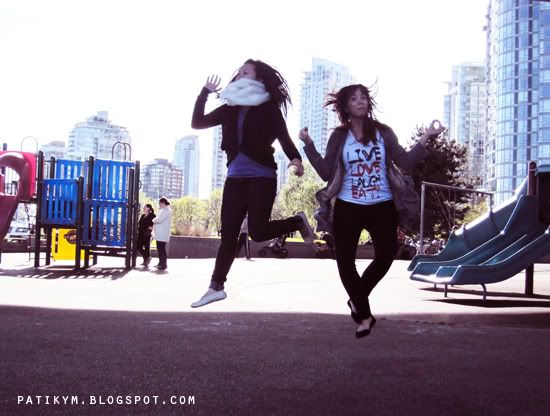 What's a Kym + Nikolett meet-up without
jumping photos
! This time, we attempted to make it look like we were levitating (we've graduated from just "ordinary" jump shots)... we didn't quite perfect it but i'm sure we'll get it right the next time we see each other! :)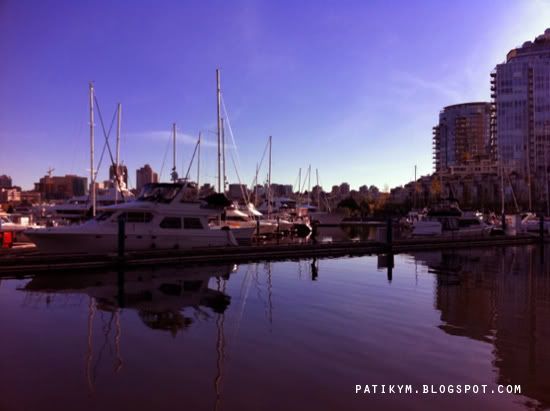 We attempted a D-I-Y photo of both of us with the above view in the background (you know, where you awkwardly stretch out your arm and take a photo of yourself) and guys walking by kept asking us if we wanted them to take the photo! It was funny b/c at one point, 2 guys (i won't say the race to avoid offending anyone) came up to us and said...
"Laaaadddiiiiesss, want us to take your photo?"
....in a really creepy manner. We just looked at each other, back at them, and said "
uhhh.. no, it's okay, we're good.
"About 5 seconds later, a British guy and his buds walked up to us and Brit guy just kind of came up to us with command and made the gesture as if he was taking a picture as a way of letting us know he was offering to take the picture. I guess we were quite mesmerized by his hotness that we didn't "get it". He then said, in his british accent, "
let me take your photograph
". We agreed (and giggled). As they walked away, the other two creepos who asked to take our photo walked by us again and probably saw that we allowed someone else to take our photo. Haha! I felt a little bad... but remembered how creepy they were. They had an accent too... but it didn't quite cut it as much as the guy with the British Accent. ;)
What is your favourite accent?
tweet, tweet // i design clothing: www.herrohachi.com // book of faces // tumblr