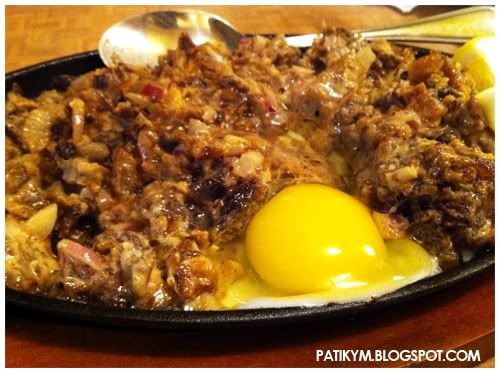 One of my favorite Filipino dishes is called
SISIG
- which is basically chopped up pig ears, face, and innards on a sizzling plate. It sounds kinda gross but it's really quite delicious... this wasn't always how I felt about it though. The first time I had this dish was when my family went back to the Philippines for a visit in 2001 (I left the Philippines to live in Hong Kong when I was 2 or 3 so that was really the first time I "experienced" it). My cousins took us out to see a live band and they ordered a bunch of food for us - one of the dishes was
sisig
. After it was all gone, my cousins asked me if I liked it... I responded with an satisfied "
YES!
" and that's when they broke it to me...
"you know you just ate a pigs face and innards right?"
O.O
If they told me that in the beginning, I probably wouldn't have eaten it... but since they waited until afterwards, It was okay b/c I already tasted it.
It's just a mental game!
This reminds me of the time my mom tricked me into eating
deer
. She told me it was her usual beef steak specialty but when I tasted it, it didn't taste right at all but I didn't think much of it b/c
why would my mom lie to me
? WRONG! My brother passed by, saw me eating it, and said "
you know what you're eating right?
"
O.O
It turns out it was a dish a family friend made and my mom knew I wouldn't eat it if she told me what it actually was. Hahaha!
Is there a dish you ate without knowing what it was until afterwards?
tweet, tweet // i design clothing: www.herrohachi.com // book of faces // tumblr